| | | |
| --- | --- | --- |
| ID | Code | Date |
| 17 | B-0010 | 24-Feb-2003 |
| | |
| --- | --- |
| Common Name | Scientific Name |
| American Woodcock | Scolopax minor |
Title
American Woodcock Nesting H
Location
Wexford County Michigan
Comments
Hen sitting on nest of four eggs.
Category
Birds-Small-legged Wading Birds
If you are interested in a price quote for this photograph, please write down the "Code" and "Title" information and go to the
Price Request Form.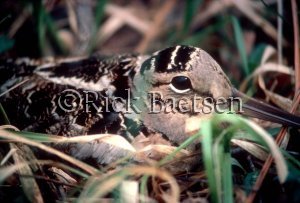 All photographs have embossed text to protect image rights. Purchased photographs will not contain embossed text.